For

roadrunner1896
, who is one of the most supportive and generous people I know, and always ready to do some hand-holding whenever I set out to try something new--like vidding this year. Unfortunately, it was impossible to include Dr Alec Track into this vid, so I did the next best thing and I hope you like it :-) Happy Christmas, dear!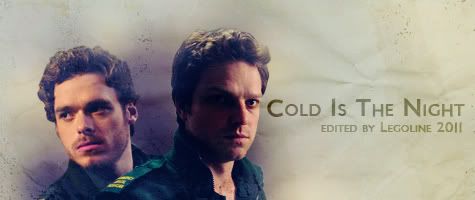 Title:
Cold Is The Night
Fandom:
Sirens
Music:
"Cold Is The Night"| The Oh Hello's
Info:
03:18 minutes, 49,1 MB; XVid
Summary:
"Take away this apathy and bury it before it buries me." (Stuart/Ashley)
Download
HERE
. (unzip with Winrar)
password:
stuart
cold is the night without you here
just your absence ringing in my ears
hard is the heart that feels no fear
without the bad, the good disappears
long is the road that leads me home
and longer still when I walk alone
bitter is the thought of all that time
spent searching for something I'll never find
take this burden away from me
and bury it before it buries me
many are the days I've wanted to cease
lay myself down and find some relief
heavy is the head that gets no sleep
we carry our lives around in our memories
take away this apathy
and bury it before it buries me
steady is the hand that's come to terms
with the lessons it has had to learn
I've seen the things that I must do
but Lord, this road is meant for two
so I am waiting here for you
take my hand and set me free
take my burdens and bury them deep
take my burden away from me
and bury it before
bury it before
bury it before it buries me
Notes:
There isn't much to say about this vid except that it took me weeks until I'd found the song that fitted both mood-wise (I had a pretty clear idea about what I wanted) and lyrics-wise. This is just a schmoopy little something because those two would be adorable together (and Ashley loves Stuart anyway). ;-)
For Roadie, who is one of approx. three people who I know that watch the show as well ♥
Feedback is always welcome.